Is Rasdhoo The Best Place To Scuba Dive In Maldives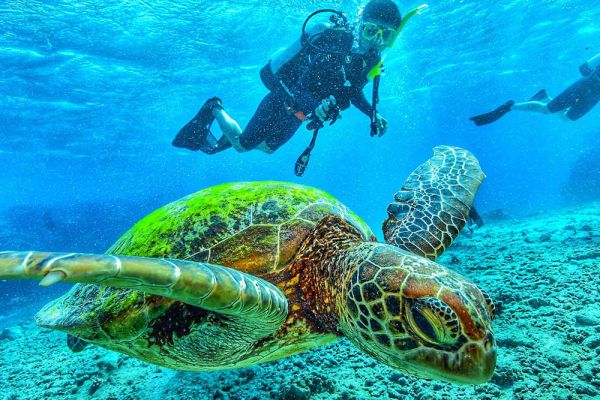 Rasdhoo is known for its breathtakingly beautiful scenery, a large variety of big fish, affordable travel and accommodation, and a lot more! Most importantly, it is a prominent place for scuba divers and diving enthusiasts all over the world.
Here's Why
Rasdhoo has more than 15 dive sites, vibrant marine life, spectacular reefs, shallow lagoons, and something for everybody. If you are a first-time scuba diver or an experienced scuba diver, we have adventure lined up for you. There are a large number of dive stays in Rasdhoo like Palm Residency.
Dive Sites In Rasdhoo:
There are more than 15 dive sites in Rasdhoo. Let us take you through the most famous ones!
1.Madivaru Corner
Madivaru corner is the underwater heaven for divers, naturalists, underwater photographers, and anybody who loves nature in its most pristine form.
Madivaru out reef is magical, as you can see moray eels, beautiful nudibranchs, and even scorpionfish.
If you are a certified diver and want to solo dive, Madivaru out reef is just the treat you are waiting for. You can explore astonishing caves and stunning overhangs.
While passing through the overhangs, if you look up, you will see soldier fishes flaunting their beautiful silver pick, yellow scaled fish near the ceilings.
Suitable For:
All experiences
Depth:
5m top reef, dropping away to 30m and beyond, maximum dive depth 30m
Expect to See:
Caves and overhangs
Moray eels
Nudibranches
Scorpionfish
Soldierfish
Tuna and Eagle rays
2.Madivaru Kandu
This a beautiful dive site with deep overhangs at 30 meters. While crossing this dive site from one corner to another, you will be able to see stingrays, eagle rays, and if you look closely, you will be able to see grey reef shark swimming along the channel edge. As you move towards the corners, you have a great chance to see a school of snappers and brightly colored triggerfish.
Suitable For:
Intermediate level
Depth:
5m at the corners, dropping away to 30m and beyond, maximum dive depth 30m
Expect to See:
Eagle rays
Stingrays
Sharks
Snappers
Triggerfish
3.Madivaru Thila
If you've wanted to see corals or cluster of corals forming reefs underwater, then you will fall head over heels for this dive site. Madivaru Thila has walls with overhangs and sloping areas filled with colorful corals. Glassfish fill the overhangs, and they need to be gently swept aside to see fish being cleaned and moray eels hiding behind them. You can find a city of blue stripe snappers and humpback snappers along the slopes.
Suitable For:
All experiences
Depth:
4m top reef, dropping down to 25m
Expect to See:
Table corals
Shrimps
Nudibranches
Nurse sharks
Glassfish
Moral Eels
Blue-stripe snappers
Humpback snappers
Stonefish
Scorpionfish
4.Rasdhoo Channel
Rasdhoo channel is located between Kuramathi and the neighboring local island of Rasdhoo. It is considered the best place for diving, as it has excellent dive conditions. It has medium current pushing mostly across and slightly in, which results in the easy passage drifting from one thila to the next. Thila's are coral blocks mounted on the 30 meters sandy bottom of the channel's outer edge before it drops into the open ocean and a depth of almost 200 meters. The top side of this large thila is found between 22 and 27 meters, so it is a deep dive and a great dive on nitrox.
Suitable For:
All experiences
Depth:
4m top reef, dropping down to 25m
Expect to See:
Grey reef sharks
White tips
Stingrays
Napoleons
Turtles
Eagle rays
Lots of big groupers
Large snappers
5.Rasdhoo Beyru
Rasdhoo Beyru is a channel is a beautiful wall on the south side of Rasdhoo island with three small thilas which are located on the drop-off edge a bit further away from the island wall. Thilas top starts from 18 to 20 meters which is suitable for beginners to experienced divers but the current can be medium to firm.
Suitable For:
All experiences
Depth:
18m to 20 meters
Expect to See:
Napoleon
Whitetip reef sharks
Grey reef sharks
6.Miyaru Faru
Miyaru Faru is located outside of the North Atoll. The reef goes below 3 to 10 meters, and a steep wall follows. Divers follow the slope until they reach a plateau of 30 meters. Sometimes when the current is fast, divers hook onto this section and observe critters passing by.
The crossing takes around 15 minutes, and finally, divers will reach the Miyaru Faru Thila, usually surrounded by schools of jackfish and bannerfish. Here, divers can shallow up and end their dive while exploring the pinnacle's top reef. This dive is only suitable for advanced divers who enjoy the adrenaline of diving in current.
Suitable For:
Advanced Divers
Depth:
5 meters to 30 meters
Expect to See:
Grey reef sharks,
School of eagle rays
Mobula rays
Giant tunas
Trevallies
Jackfish
Bannerfish
7.Bodu Gaa
Bodu Gaa is a typical long outer reef with a gentle slope going down to 30 meters that extends to the open ocean. Some nice cracks and overhangs at about 20 to 25 meters are the attractive spots of this dive site. A variety of fishes, like fusiliers, sweetlips, moray eels, jackfish, snappers, tunas, and sharks make the reef alive. Turtles and napoleons are also a common encounter. Always keep an eye into the blue, you never know what may pass by!
Suitable For:
Advanced Divers
Depth:
20 to 25 meters
Expect to See:
Fusiliers
Sweetlips
Moray eels
Jackfish
Snappers
Tunas
Sharks
Turtles
Napoleons
8.Hammerhead Shark Point
The islands considered a paradise on earth offer travelers many activities and facilities. If you are interested in diving, make sure you seek out the Maldivian Islands' very own Hammerhead Shark Point. This point is among the most jaw-dropping and adrenaline-pumping diving locations in the islands. Travelers to this point can enjoy an underwater city full of hammerhead sharks living amongst their natural habitat. These unusually shaped creatures with their hammer-like heads occupy the Hammerhead Shark
Suitable For:
Advanced Divers
Depth:
200 meters
Expect to See:
Whale shark
Zebra shark
Tiger shark
Silky shark
Tawny nurse shark
Silvertip shark
Grey reef shark
Bignose shark
Blue shark
Kitefin shark
Thresher shark
Oceanic whitetip shark.
9.Kuramathi Queen (Wreck Dive)
Kuramathi Queen wreck is located close to the island of kuramati.The wreck is a 40m/131ft-long freighter that was sunk in 1987. Over the years, this has developed into an artificial reef providing shelter for many different fish species.
Suitable For:
Any experience
Depth:
40 meters
Expect to See:
Wreck
Divers can spot numerous rays.
Barracudas
Other big fish
10. Palm dive site
The Three Palm dive site is located at the southern side of Rasdhoo Atoll, Maldives, only 10 minutes away from the island of Kuramathi. The dive site features a beautiful wall that can be dived at various depths, so this dive site is suitable for divers with different levels of experience. The wall is overgrown with colorful soft and hard corals, where careful divers and keen photographers can spot some interesting types of nudibranchs. When they descend slowly along the wall at a depth of around 15-25m/49-82ft divers will see three impressive coral blocks that resemble huge palm trees, hence the name of this dive site.
Suitable For:
Any experience
Depth:
15-35 meters
Expect to See:
beautiful soft and hard corals
Colorful nudibranchs
Cruising stingrays
Whitetip reef sharks
Hawksbill turtles
Barracudas
---
Posted
1 year ago